Introduction
The Colorado River Basin, which encompasses seven states in the western United States, is currently experiencing a significant water stress crisis. A recent analysis conducted by the World Resources Institute has identified Arizona, New Mexico, and Colorado as the states most severely affected by water stress, with California also facing high levels of stress. This article aims to provide a comprehensive understanding of the severity of the situation, the global context of water stress, the impact of climate change, and potential solutions to address this imminent crisis.
The Colorado River Basin and Water Stress
The Colorado River Basin is currently experiencing a severe water stress crisis, making it one of the most water-stressed regions in the world. States such as Arizona, New Mexico, Colorado, and California are particularly affected, with Arizona ranking highest in water stress severity in the United States. The level of water stress in the region is comparable to that experienced in arid countries like Saudi Arabia and Qatar.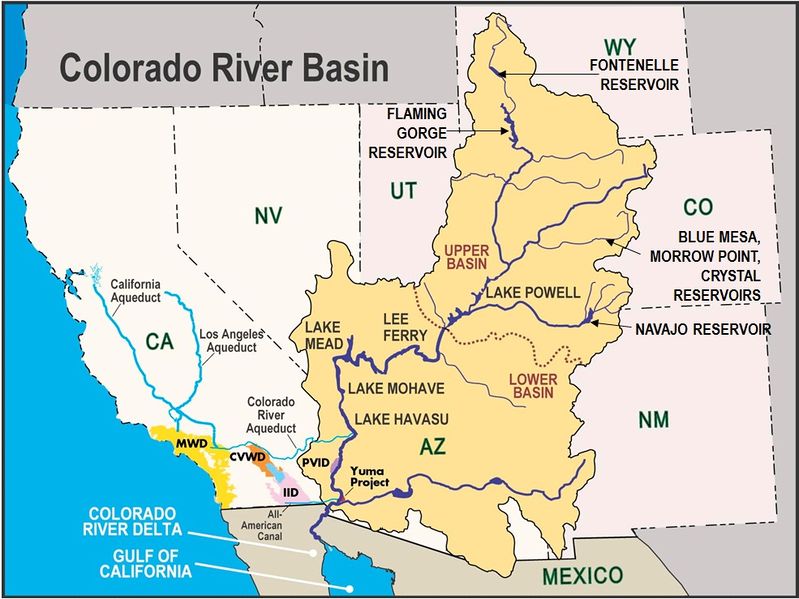 Global Water Stress
Water stress is a global issue, with approximately 25 countries, including Bahrain, Cyprus, Lebanon, Israel, Chile, Jordan, Greece, and Tunisia, facing extreme water stress. While the United States as a whole does not meet the threshold for high water stress, the Colorado River Basin stands out as a water-stressed region within the country.
Impact of Climate Change
The water stress crisis in the Colorado River Basin is exacerbated by the impact of climate change. Although recent weather conditions have provided temporary relief from water shortages, long-term demands and limited water supply necessitate significant reductions in water usage. The region's two largest reservoirs, Lake Mead and Lake Powell, are currently at historically low levels, with only 36% of their capacity remaining. Climate change contributes to warmer temperatures, reduced water availability, and a trend towards drier conditions, further straining water resources.
Global Water Scarcity Trends
Water stress affects approximately 4 billion people globally, representing half of the world's population. Projections indicate that by 2050, nearly 60% of the global population will face extreme water stress. The World Resources Institute estimates that by 2050, approximately one-third of global gross domestic product may be exposed to high water stress.
Addressing Water Stress
To address water stress, various solutions can be implemented. Improving water use efficiency, particularly in agriculture, can significantly reduce water consumption. This includes implementing water-saving irrigation systems and adopting efficient agricultural practices. Additionally, recycling and reusing wastewater can alleviate water stress. Protecting and restoring forests and wetlands also play a crucial role in preserving water resources and mitigating water stress.
Conclusion
The water stress crisis in the Colorado River Basin demands immediate attention and effective action. While the situation presents significant challenges, there are practical solutions available to manage water stress, mitigate the impacts of climate change, and ensure a secure water future for the region. Sustainable water management practices, innovative technologies, and nature-based solutions can contribute to a more resilient and water-secure Colorado River Basin and other water-stressed regions worldwide.